Clarity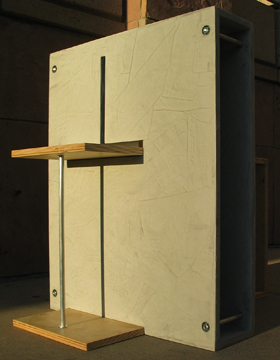 Inspiration Artist:
Tadao Ando
Student artists: Pam Stradling and Chelsea Harwood
As light streams though the simple form of a cross,
it enters a dark interior that is desperate to feel warmth.
Light only gains its meaning when it is introduced in a "form cut off from the outside world".
The City of Phoenix Family Advocacy Center is that light that reaches into the darkness to show the path out.
When the path is aligned, it becomes clear, and a victim of domestic violence can escape their dark reality.
Set in a backdrop of light, Clarity shows the path and becomes a guide out of an empty and isolated world.
2002/2003 Student Search
|
2004 Student Search
2005 Student Search
|
2006 Student Search
BACK HOME
---
An IIDA Southwest Chapter sponsored site designed & donated by acoustics.com